19. Mel Andrews
(39)

Andover, UK
Ditt beste hundekjørerminne:
Ive had some amazing race experiences, but the happiest memory was driving at the back of a tourist trip on the Sea Ice, with Baby William giggling and waving at the dogs the whole way and the wonderful guests all wanting a picture with him and the dogs at the end.
Sponsorer: ArcticHuskies.com, LaplandRanch.com
Langdistanse erfaringer
Løp/ år/ plassering - inklusive alle gangene du har fullført Finnmarksløpet:
2016: Femund 600km 19th, Gausdal 200km 17th, Gruvelopet 160km 3rd
2015: Gruvelopet 160km 11th,
2014: Femund 600km 25th, Gruvelopet 160km 7th, Gausdal 200km 22nd
2013: Finnmark 500km 32nd, Femund 400km 69th, Gausdal 200km 22nd
2012: Polarhund 100km 11th, 2011 LGO
Hvorfor langdistanse / Finnmarksløpet:
Spending time with my dogs, the bond it creates, exploring the wilderness, the love of adventure and working hard as part of a team.
Målsettinger og strategi for årets løp:
Have fun, enjoy the race with the dogs and finish with a happy and healthy team.
Ledere i spannet/ navn/ alder:
Special leaders Toivo, Houdini, Tenzing, Nortug, Ozzy, Sarek, Baker, Rhino, Kevlar.
Lokalaviser:
BBC, Andover Advertiser, This is Hampshire, Southern Echo
Hobbyer:
Dogsledding, Mountain Climbing, Skiing, Kayaking, Photography, Writing and doing all of those with my baby son William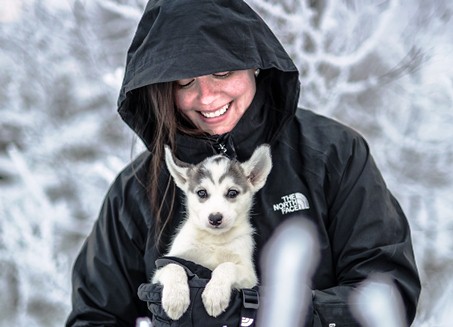 Familiemedlemmer:
William, Nigel, the Dogs, Mum, Dad, Darren, Ella, Sienna, Barry, Patty and lots of very supportive extended family.
Land: Sweden
Telefon: +46703584454
Hjemmeside: www.arctichuskies.com
Yrke: Musher, Tourist Company, Mother
Trekkhundklubb: TeamGB
Kennel navn: Team Mel Andrews
Ant. hunder: 80

Back to entrant list