About Finnmarksløpet
Finnmarksløpet - The longest sled dog race in Europe

Finnmarksløpet was first arranged in 1981 with only three mushers participating. At that time the interest for dogsled racing was very narrow. Today we are happy to conclude that this sport and dogsledding keep engaging thousands of people. In 2001 Finnmarksløpet AS was created as a company with one employee. From then on the race has been more professional an comercial, from being a rather small sportsarrangement to becoming the biggest sports and cultural arrangements in this part of the country.
Every year approximately 130 entrants start Finnmarksløpet.
Finnmarksløpet has since then become a very solid an well known brand, both as an arrangement and a symbol of Finnmark united in a festival.
Since 2009 NRK (Norwegian broadcasting Corporation) has aired daily from the race, making the interest among norwegians explode!
We also experience that people from all over the world turn their interest towards Norway and Finnmark during the race. The ratings on NRK TV and our own Digital media shows an amazing increase every year, and we keep on being impressed over these fantastic ratings, and visits to our website during the race.
The Race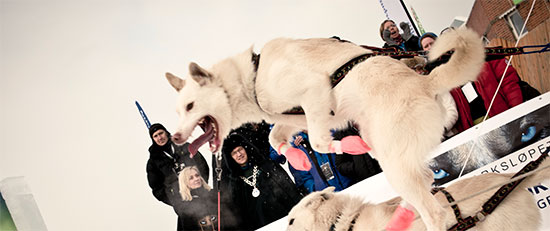 The race starts in week 10 every year from Alta centrum. We run a show start with official opening, speaker, music and thousands of audience in Altas main street for all classes. The FL-1200/14-dog class start Friday evening at 19:00. Saturday at 13:00 the FL-junior/6-dog and the FL-500/8-dog class start their race. You can be a part of the show, and cheer for over 1,000 huskies and their mushers as they start the ultimate winter challange if you join us in Finnmark in March.
Our three classes

FL-JUNIOR 6-dog junior class
Start and finish in downtown Alta. Mushers between 14 and 18 years old. The trail is 210 km and has three checkpoints.

FL-500 8-dog class
The start is from downtown Alta, and keeps going as a round trip in western Finnmark. The mushers are expected to be back by tuesday morning, if the weather conditions and tracks are fairly good. The total length is 550 km.
FL-1200 14-dog class
The start is from downtown Alta in west, heading south to Kautokeino, then over to eastern Finnmark and Kirkenes, and then returning to Alta.
The first mushers are expected to be back by thursday/friday. It is always hard to guess when the first mushers enter, since this leg is longer, and the weather therefor matters even more. So the exact time the first racers enters the finish line is as unpredictable as the weather in Finnmark. This class is 1200 km, the longest sled dog race in Europe.
If you as a spectator want to follow the racers from one checkpoint to another, you will not only be watching an amazing sports event, but also a stunning co operation between mother nature, dogs and humans. And as a bonus you get Finnmarks amazing nature and culture.
Here is a map that shows the route of both classes